The latest news stories and stories of interest in the Rogue Valley from the digital home of Southern Oregon, from Wynne Broadcasting's RogueValleyMagazine.com
Wednesday, May 12, 2021
Rogue Valley Weather
Today- Sunny, with a high near 90. Calm wind becoming north northwest around 6 mph in the afternoon.
Thursday- Sunny, with a high near 89. Calm wind becoming northwest 5 to 7 mph in the afternoon.
Friday- Mostly sunny, with a high near 82. Calm wind becoming northwest around 6 mph in the afternoon.
Saturday- Sunny, with a high near 84.
Sunday- Sunny, with a high near 90.
Oregon reports 660 new confirmed and presumptive COVID-19 cases, 16 new deaths
There are 16 new COVID-19 related deaths in Oregon, raising the state's death toll to 2,549. The Oregon Health Authority reported 660 new confirmed and presumptive cases of COVID-19 bringing the state total to 192,416.
The new confirmed and presumptive COVID-19 cases reported today are in the following counties: Benton (10), Clackamas (60), Clatsop (3), Columbia (2), Crook (10), Deschutes (64), Douglas (14), Grant (1), Harney (2), Hood River (1), Jackson (44), Jefferson (5), Josephine (12), Klamath (43), Lake (4), Lane (52), Linn (22), Malheur (4), Marion (57), Morrow (3), Multnomah (94), Polk (8), Tillamook (3), Umatilla (27), Union (3), Wallowa (1), Wasco (2), Washington (90), Wheeler (2) and Yamhill (17).
Vaccinations in Oregon
Today, OHA reported that 34,415 new doses of COVID-19 vaccinations were added to the state immunization registry. Of this total, 17,961 doses were administered on May 10 and 16,454 were administered on previous days but were entered into the vaccine registry on May 10.
The seven-day running average is now 34,869 doses per day.
Oregon has now administered a total of 1,850,101 first and second doses of Pfizer, 1,413,162 first and second doses of Moderna and 113,436 single doses of Johnson & Johnson COVID-19 vaccines. As of today, 1,490,512 people have completed a COVID-19 vaccine series. There are 1,994,968 people who have had at least one dose.
Cumulative daily totals can take several days to finalize because providers have 72 hours to report doses administered and technical challenges have caused many providers to lag in their reporting. OHA has been providing technical support to vaccination sites to improve the timeliness of their data entry into the state's ALERT Immunization Information System (IIS).
To date, 2,211,885 doses of Pfizer, 1,798,980 doses of Moderna and 253,800 doses of Johnson & Johnson COVID-19 vaccines have been delivered to sites across Oregon.
These data are preliminary and subject to change. OHA's dashboards provide regularly updated vaccination data, and Oregon's dashboard has been updated today.
COVID-19 hospitalizations
The number of hospitalized patients with COVID-19 across Oregon is 345, which is 19 more than yesterday. There are 89 COVID-19 patients in intensive care unit (ICU) beds, which is 11 more than yesterday.
The total number of COVID-19 positive patient bed-days in the most recent seven days is 2,300, which is a 3.0% decrease from the previous seven days. The peak daily number of beds occupied by COVID-19 positive patients in the most recent seven days is 345.
The total number of patients in hospital beds may fluctuate between report times. The numbers do not reflect admissions per day, nor the length of hospital stay. Staffing limitations are not captured in this data and may further limit bed capacity. More information about hospital capacity can be found here.
Governor Brown Sets Vaccination Targets for Oregon to Begin to More Fully Reopen Economy
Tuesday afternoon, Gov. Brown and OHA Director Patrick Allen provided an update on the state's new vaccination targets for reopening the economy, closing the vaccine equity gap at the county level and the criteria for lifting the County Risk Level framework.Most restrictions to be lifted statewide when 70% of Oregonians 16 and older receive first dose.
Beginning May 21, counties eligible for option to move to Lower Risk when 65% of county residents 16 and older receive first dose and submit plan to close vaccine equity gaps
County Risk level movements announced for Friday, May 14: Three counties move down to Moderate Risk
——————————————————————-
Governor Kate Brown today announced vaccination targets to more fully reopen Oregon's economy, setting a 70% statewide goal to reach Oregonians 16 and older with a first dose to lift most Risk Level restrictions. Additionally, beginning on May 21, counties will have the option of moving to the Lower Risk level once 65% of county residents 16 and older have received at least one vaccine dose, and counties have submitted a complete plan to close equity gaps in vaccination.
"Thanks to you, Oregon, it looks like we've crossed the tipping point of the fourth surge," said Governor Brown. "Our hospitalization rates have stabilized. Our infection rates are on a downward trajectory. And in the race between vaccines and variants, our efforts to vaccinate Oregonians are taking the lead.
"We still have some work to do to reach our 70% goal, but I am confident we can get there in June and return Oregon to a sense of normalcy.
"So Oregon, this is our goal. We each play a part. If you have already been vaccinated, thank you. Now help a friend, family member or neighbor make an appointment. Spread the word that folks can call 2-1-1 or visit covidvaccine.oregon.gov for more information."
Statewide lifting of Risk Level framework
Statewide, the Governor announced her goal that Oregon reach 70% of the population 16 and older with a first vaccine dose in order to more fully reopen Oregon's economy by lifting most of the health and safety restrictions imposed by the Risk Level framework.
• After achieving 70%, Oregon may continue requiring some use of masks and physical distancing and will continue to evaluate the use of these tools as we learn more from the CDC and evaluate Oregon's COVID-19 conditions and experience.
• All other health and safety requirements for counties under the Risk Level framework will be lifted, and counties will no longer be assigned risk levels. (Oregon public schools will still be required to follow Ready Schools, Safe Learners health and safety requirements, with the Oregon Health Authority and Oregon Department of Education updating that guidance for the 2021-22 school year to lift most restrictions based on CDC guidance.)
• Statewide, Oregon must continue to work towards closing equity gaps for communities of color.
Counties eligible for option to move to Lower Risk, beginning May 21
Beginning May 21, the Governor announced, counties will have the option to move weekly to the Lower Risk health and safety restrictions in Oregon's Risk Level Framework. County movements will be announced on May 18. To move to Lower Risk, counties must:
• Reach 65% of the county population 16 or older with a first vaccine dose.
• Submit a complete plan to the Oregon Health Authority (OHA) which details how the county will close the equity gaps in their vaccination efforts.
• Counties will be eligible for state resources to help achieve these goals, and will be eligible for additional funding as they demonstrate making progress towards closing their equity gaps.
County Risk Level movements, effective May 14
Governor Brown today also announced updates to county risk levels under the state's public health framework to reduce transmission and protect Oregonians from COVID-19. This week, Grant, Lincoln, and Wasco counties will move to the Moderate Risk level, down from High Risk. Effective Friday, May 14, 21 counties will remain in High Risk, 7 counties will be in Moderate Risk, and 8 counties will be in Lower Risk.
A complete list of counties and their risk levels is available here.
With Oregon no longer meeting the statewide hospitalization metrics for Extreme Risk, following this week, Oregon will return to a two-week cycle for risk level changes for counties that have not vaccinated at least 65% of their population. Following the announcement of county movements to Lower Risk based on reaching vaccination goals on May 18, the next risk level changes will be announced on Tuesday, May 25, to take effect on Friday, May 28.
Additional Materials
• A copy of the Governor's prepared remarks from today's press conference is available here.
• More information on vaccines is available at covidvaccine.oregon.gov.
You can watch a recording of briefing here and find a copy of the talking points here. Today's slides are also available here.
LOCAL HEADLINES:
Medford Launches Interactive Evacuation Zone Map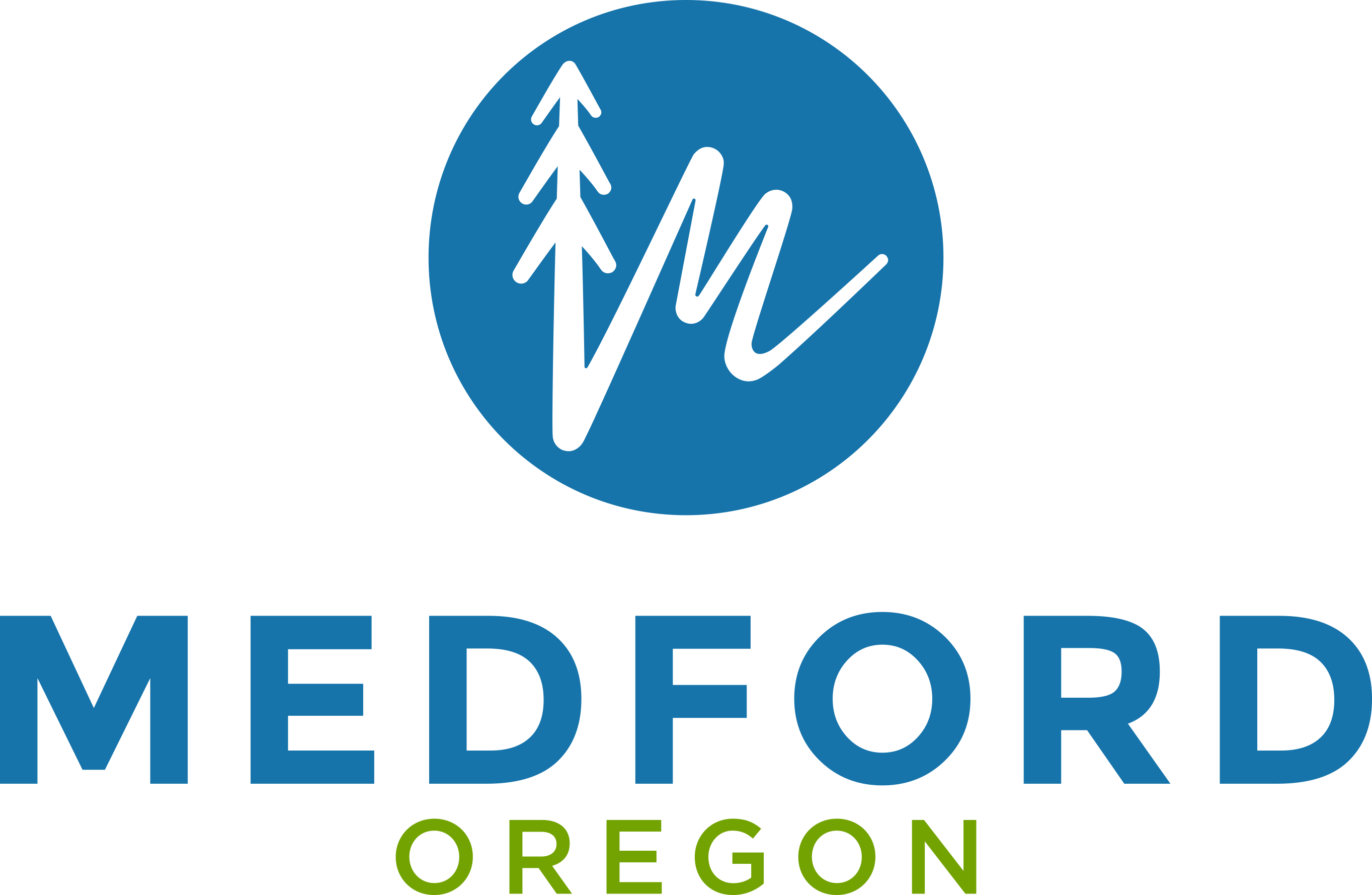 The City of Medford has created a community evacuation map to help Medford residents and businesses prepare for the next evacuation or emergency. The new online interactive map promotes community coordination by enhancing the City's capabilities to disseminate timely emergency notifications.
In the event of an emergency, first responders will use the 14 predetermined zones to plan and execute evacuations both large and small.
"Public safety during emergencies is of utmost importance to us," said Aaron Ott, City Emergency Management Coordinator. "It is our goal to arm our residents with preparedness knowledge, encourage them to create a disaster plan, practice ways out of their neighborhood and be prepared for emergency situations."
Know Your Zone
Knowing your zone is critical to the evacuation process. Go to MedfordOregon.gov/BePrepared, click on Evacuation Zones and enter your address into the interactive map. Find your zone, review zone details and print a copy of the map before the next emergency.
Copies of each neighborhood route and an evacuation checklist are available for download in English and Spanish through the interactive map.
Fire Season Restrictions go into effect May 12th within the City of Grants Pass
Fire Season begins Wednesday, May 12th, at 12:01 a.m. The fire danger level will be "Low" (green). The adopted City Municipal Code 9.15 Regulated Closure Fire Restrictions will take effect at that time.
Since the beginning of March, Jackson and Josephine Counties have responded to more than 50 wildland fires, totaling more than 100 acres.
Warm temperatures, windy conditions, and a lack of spring rain are among the contributing factors that increased fire starts and growth. Fuels across the region are also much drier than normal, reflecting late June-like conditions in mid-May. For these reasons, fire season is being declared within the City of Grants Pass as well as Jackson and Josephine counties.
Beginning Wednesday, the following restrictions will take effect:
Smoking in areas of flammable vegetation is prohibited.
Open fires are prohibited, including campfires, cooking fires, and warming fires, except at locations designated by the Fire Marshal. Still allowed will be natural gas, propane, and charcoal BBQ's, smokers as well as natural gas and propane ornamental fires.
Power saw use is permitted all day during low fire danger. Each power saw is required to have one shovel and one fire extinguisher of at least 8-ounce capacity. A Firewatch of at least one hour is required following the use of each saw.
Cutting, grinding and welding of metal in areas of flammable vegetation is permitted all day during low fire danger.
The mowing of dried, cured grass is permitted all day during low fire danger.
Motor vehicles, including motorcycles and all-terrain vehicles, are only allowed on improved roads free of flammable vegetation, except for the culture and harvest of agricultural crops.
Any other spark-emitting internal combustion engine in areas of flammable vegetation not specifically mentioned is permitted when conducted in a cleared area and a charged garden hose or one 2 ½ pound or larger fire extinguisher is immediately available.
The City Fire Marshal or an authorized representative may, in writing, approve a modification or waiver of these requirements.
For more information about the City of Grants Pass Fire Season regulations, please call the Fire Prevention Bureau at 541-450-6200 — Grants Pass Fire/Rescue
Fire Season Officially Begins May 12th In Jackson And Josephine Counties
Fire Season officially begins May 12th in Jackson and Josephine counties, the Oregon Department of Forestry announced Monday. The change means the beginning of fire danger restrictions and closures on ODF-protected lands in southwest Oregon.
At the outset, the fire danger level will be "Low" (green) with the Industrial Fire Precaution Level at level one. These regulations apply to 1.8 million acres of state, private, county, city, and federal forestlands in Jackson and Josephine counties.
"Since the beginning of March, the district has responded to more than 50 fires, totaling more than 100 acres; warm temperatures, windy conditions and a lack of spring rain are among the contributing factors that increased fire starts and growth," ODF said. "Fuels across the region are also much drier than normal, reflecting late June-like conditions in mid-May. For these reasons, fire season is being declared in Jackson and Josephine counties."
Starting Wednesday, debris pile burning and use of burn barrels will be prohibited in Jackson and Josephine counties. ODF pointed to multiple escaped debris burns that crews have responded to over the past several weeks. Landowners are asked to check previous burn piles to confirm that they are completely extinguished.
In low fire danger, the following activities are prohibited:
No debris burning, including piles and debris burned in burn barrels.
No fireworks on or within 1/8 of a mile of forestland.
Exploding targets and tracer ammunition, or any bullet with a pyrotechnic charge in its base, are prohibited.
Campfires are allowed in designated campgrounds, and on private land with the landowner's permission. Portable stoves using liquefied or bottled fuels may be used as well.
Smoking while traveling will only be allowed in enclosed vehicles on improved roads, in boats on the water and other specifically designated locations.
Any electric fence controllers must be approved by a nationally recognized testing laboratory, such as Underwriters Laboratories Inc., or be certified by the Department of Consumer and Business Services, and be installed and used in compliance with the fence controller's instructions for fire safe operation.
Under IFPL I (one) – fire season requirements are in effect. In addition to the following:
A Firewatch is required at this and all higher levels unless otherwise waived.
ODF is set to follow suit in Klamath and Lake counties on Saturday, May 15 — officially beginning Fire Season regulations in those areas. For Klamath and Lake, the fire danger level will begin at Moderate (blue) with IFPL at level one.
"Where we are at with fuel conditions, lack of spring rains, extreme and exceptional drought, and continuous fire activity in Klamath County, Lake County, and around the state, Klamath-Lake District will be declaring fire season on Saturday, May 15th at 12:01 a.m." said Randall Baley, Protection Unit Forester with ODF. "The total package of conditions all adds up to make the public aware of the situation and minimize the potential for human-caused fires."
Additional information about fire season is also available online at: www.swofire.com, Facebook page, ODF Southwest Oregon District and Twitter account, @swofire.
AROUND the STATE of OREGON
Pembina Puts Jordan Cove Pipeline Project on Pause
Pembina has paused the Jordan Cove liquified natural gas pipeline project. Reuters reports that the company filed a document in a D.C. appeals court, saying that recent regulatory setbacks are keeping the project from going forward.
Following state reversals of two of its dredging permits last week, development of the Jordan Cove Energy Project is officially on pause.
Donald Sullivan, the project's manager and associate general counsel, filed a letter with the Federal Energy Regulatory Commission on Tuesday citing a laundry list of state permit denials that prevent the project from moving forward despite a federal approval from the agency.
"Applicants have decided to pause the development of the Project while they assess the impact of these decisions," Sullivan wrote.
The project involves a liquid natural gas export terminal in Coos Bay, connected via a 229-mile pipeline to a compression station near Malin, and would cross through four southern Oregon counties.
The letter also requested that FERC withdraw its consultation requests with the U.S. Fish and Wildlife Service and National Marine Fisheries Service on Jordan Cove's behalf "to conserve the resources of the Commission and other operating agencies." That process will have to be restarted if the company decides to resume the project in the future.
On May 5, Oregon's Land Use Board of Appeals reversed the project's permits to dredge in Coos Bay, issued by Coos County and the City of Coos Bay, on grounds that the company had not adequately justified why the coastal areas in question (zoned for conservation use) needed to be converted to vessel navigation zones. LUBA has either remanded or completely reversed eight of the company's needed local permits in the past year.
In January, FERC upheld Oregon's denial of a project permit under the Clean Water Act, saying that the state did not waive its authority to do so when Jordan Cove challenged the ruling. In February, the Department of Commerce sustained Oregon's objection to the project under the Coastal Zone Management Act. Sullivan mentioned these setbacks in the letter to FERC this week.
Pembina took a $1.6 billion write-down in February, citing the pandemic and uncertainty surrounding three projects, including Jordan Cove and the company's stake in the Ruby Pipeline, which would connect to Jordan Cove via the Malin compressor station. Though they said without government obstacles, the project is still economically viable.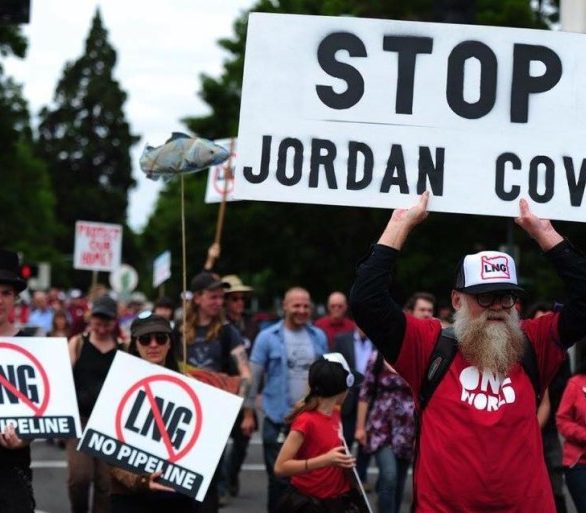 Allie Rosenbluth, campaigns director for Rogue Climate, said the developments are encouraging but that Jordan Cove's possession of a federal permit from FERC still allows it to seize land under eminent domain, even though it can't begin construction until it receives state and local permits to do so.
"There's still a risk that landowners would lose their property," Rosenbluth said. "It doesn't seem like that's something the company's trying to do anytime soon, but it's a risk that is really concerning."
Rogue Climate, other community organizations, area tribes and the state are challenging the FERC approval in court to strip Jordan Cove of its ability to take private land. The company filed a motion to pause the litigation at the end of April, and a judge is expected to make a decision on that next month.
Though the latest developments likely mean that Jordan Cove is all but laid to rest, Rosenbluth said the project's opponents want it gone completely.
"We are going to continue to fight this project until it's cancelled for good, because it's come back in the past," she said. "Pembina needs to see the writing on the wall and cancel this project for good so that our communities can move on to building jobs in clean energy, energy efficiency, sustainable fisheries and agriculture."
Pembina stated that they continue to believe in the project, but right now it's not worth the money to keep pushing ahead with the current political and regulatory climate.
Oregon approved to issue more than $550 million in food assistance to 572,000 children
The State of Oregon received approval from the federal government to issue Pandemic EBT (P-EBT) for the 2020 – 2021 school year. This will provide more than $550 million in food assistance for approximately 572,000 children in Oregon.
P-EBT provides food benefits to families whose children do not have access to the free or reduced-price meals usually provided at school. Oregon was approved to provide retroactive food benefits to eligible students for the 2020 – 2021 school year. The P-EBT benefits are expected to be issued beginning in July.
"P-EBT benefits will significantly support the food security, health and well-being of children and families across Oregon," said Dan Haun, director of the Oregon Department of Human Services (ODHS), Self-Sufficiency Programs. "Still, many Oregonians are struggling meeting their basic needs. We encourage them to contact our partners at 211 and the Oregon Food Bank."
"All children deserve access to adequate nutrition to fuel their learning. The Oregon Department of Education is happy to be partnering with ODHS and local school districts to meet the nutrition needs of Oregon's children and families who were most impacted by the pandemic." said Cindy Hunt, Chief of Staff at Oregon Department of Education (ODE).
ODHS and ODE share responsibility in ensuring that children across Oregon receive P-EBT food benefits. ODE collaborates with school districts across Oregon to determine eligibility and ODHS issues the benefits on Electronic Benefit Transfer (EBT) cards.
Households do not need to apply for P-EBT. Benefits will be automatically issued for students who normally have access to free and reduced-price meals and are enrolled at a school in Oregon.
If your children are not currently enrolled in free or reduced meals you can apply through your school or online at the Oregon Department of Education website. Qualifying for free or reduced meals for the 2020 – 2021 school year before June 30, 2021 will ensure you receive P-EBT when the benefits are issued. P-EBT benefit eligibility and amounts will vary. Visit pebt.oregon.gov for more information.
Each student will receive their own P-EBT card. Students and households new to P-EBT and households with more than one student will receive an Oregon P-EBT card in the mail with instructions. Cards will be mailed to the address on file with the school for those students who do not receive SNAP.
Students who are already receiving Supplemental Nutrition Assistance Program (SNAP) benefits will receive the P-EBT benefits on the EBT card associated with their household's SNAP case.
P-EBT does not replace any child nutrition program already offered, and families are encouraged to continue participating in grab-n-go-meals or emergency food programs at their local schools and community locations.
P-EBT is separate from SNAP benefits including emergency allotments that are also being issued due to the impact of COVID-19. P-EBT benefits are not considered in a public charge test.
Resources to help meet basic needs
Find a food pantry: foodfinder.oregonfoodbank.org
Learn about government programs and community resources for older adults and people with disabilities: Aging and Disability Resource Connection of Oregon at 1-855-673-2372 or www.adrcoforegon.org.
Dial 2-1-1, or text your zip code to 898211 (TXT211), www.211info.org
Oregon Department of Human Services Resources
About SNAP
Administered by ODHS, SNAP is a federal program that provides food assistance to approximately 1 million eligible, low-income families and individuals in Oregon, including many older adults and people with disabilities. Oregonians in need can apply for benefits, including SNAP, child care, cash assistance and Medicaid. Learn more at https://govstatus.egov.com/or-dhs-benefits. For local resources in your area, such as food or shelter, please call 2-1-1 or reach out to the state's Aging and Disability Resource Connection (ADRC) at 1-855-ORE-ADRC or 1-855-673-2372.
About the Oregon Department of Education
The Oregon Department of Education fosters equity and excellence for every learner through collaboration with educators, partners, and communities. ODE oversees the education of over 560,000 students in Oregon's public K-12 education system. While ODE isn't in the classroom directly providing services, the agency (along with the State Board) – focuses on helping districts achieve both local and statewide goals and priorities through strategies such as:
Developing policies and standards
Providing accurate and timely data to inform instruction
Training teachers on how to use data effectively
Effectively administering numerous state and federal grants
Sharing and helping districts implement best practices
Oregon Department of Human Services — https://www.fns.usda.gov/snap/state-guidance-coronavirus-pandemic-ebt-pebt
OED Launches Federal Mixed Earner Unemployment Compensation (MEUC) Program – Program provides an additional $100 weekly benefit to 'hybrid workers'
The Oregon Employment Department launched the Mixed Earner Unemployment Compensation (MEUC) program, a temporary federal program for 'hybrid workers,' or people who have earned W-2 wages and self-employment income. MEUC is the sixth federal benefit program implemented by the Employment Department since March 2020.
"We are pleased to have another critical lifeline available for people who are struggling during this ongoing global health pandemic. MEUC was created in response to workers whose past income wasn't fully being counted. Congress heard the outcry from these workers, and now that the program has launched, Oregonians who have side income will see that reflected in their weekly benefit amount," said Acting Director David Gerstenfeld.
MEUC provides an extra $100 per week to eligible claimants. Claimants are eligible for MEUC if, in addition to W-2 wages, they earned a net income of at least $5,000 in self-employment work in the most recent taxable year before they applied for unemployment benefits. When claiming weeks of MEUC, they must have received at least one dollar in Regular UI or Pandemic Emergency Unemployment Compensation (PEUC) benefits. Pandemic Unemployment Assistance (PUA) recipients are not eligible for MEUC.
MEUC benefits are available from Dec. 27, 2020, through the week ending Sept. 4, 2021. Eligible claimants will receive benefit payments going back to the week of Dec. 27, 2020, and then for all eligible weeks they claim moving forward.
People who think they may be eligible for MEUC benefits will need to submit proof of qualifying income to the Employment Department. The quickest way to apply for MEUC is online, by visiting the Online Claim System and clicking "MEUC".
Those unable to apply online can submit their application and required documentation by mail. Claimants without internet access can call the Employment Department's Tax Section at 503-947-1488 for instructions on what information to send and where to send it. Eligible claimants will receive MEUC payments approximately 3 weeks after approved documents have been received.
For more information about MEUC, visit the Employment Department's Mixed Earner Unemployment Compensation FAQ or the Applying for MEUC Step-by-Step Guide. The Employment Department is hosting a live webinar on MEUC at 1 p.m. Thursday, May 13, and a recording of the webinar will be available May 14. Webinar registration and webinar recordings can be found at unemployment.oregon.gov/webinars.
Equal Opportunity program — auxiliary aids and services available upon request to individuals with disabilities. Contact: (503) 947-1794. For people who are deaf or hard of hearing, call 711 Telecommunications Relay Services Oregon Employment Department
2 Dogs Fatally Shot, 3 Wounded at Salem Gas Station, Suspected Shooters Still on the Run
Several vehicles with passengers in them at a Salem gas station parking lot were hit by bullets, police said. No humans were struck, however "five dogs in the back of one of the vehicles were hit by bullets."
Five dogs who were in the back of a car parked near a reported shooting were struck by bullets, killing two of the pets, police say.
Just before midnight on Monday, May 10, 2021, Salem Police patrol officers responded to multiple calls of shots fired near the vicinity of Clay and Cypress Streets NE. Officers in the area also heard the shots and arrived to find a vehicle speeding away. A pursuit was initiated and ended near the 2800 block of Howell Prairie Road NE where the occupants drove into a field and fled on foot.
Salem Police received support from regional agencies, Marion County Sheriff's Office, Keizer Police Department and Oregon State Police, as they assisted with establishing a perimeter and the search. A thorough search of the area for several hours did not result in locating the occupants of the involved vehicle.
Patrol officers working the original scene of the shooting determined several vehicles in the nearby gas station parking lot had been struck. Although the vehicles were occupied, none of the persons inside were struck by the gunfire. Unfortunately, five dogs in the back of one of the vehicles were hit by bullets. With the owner's permission, officers took the adult dog and puppies immediately to an emergency veterinary clinic close by, but two of the dogs died.
Detectives are currently working all available leads, and no further information is available at this time. If you have any information regarding this incident, please call the Salem Police Department tips line at 588-8477.
Oregon Health Coverage special enrollment period continues through Aug. 15, 2021
People in Oregon are enrolling in health coverage at a much higher rate than this time last year. As of April 30, 2021, more than 10,100 people in Oregon have newly enrolled in health coverage through the Marketplace, which is an increase of 31 percent over people who enrolled during this time last year and 80 percent more than enrolled during
the same period in 2019. Higher enrollment in the Marketplace from Feb. 15 through April 30 is likely due to the COVID-19 special enrollment period, which is open to anyone who needs health coverage and is eligible to shop through HealthCare.gov.
This special enrollment period continues through Aug. 15, 2021. In addition, people applying through the Marketplace are now eligible for substantially higher savings thanks to the American Rescue Plan. More than 4 in 5 people in Oregon now qualify for financial assistance in the form of premium tax credits, which reduce the cost of the monthly premium to have health coverage, and cost-sharing reductions to reduce the out-of-pocket costs associated with health care.
People already receiving premium tax credits are also receiving additional savings. Enrollees can choose to receive all of the increased tax credits with their 2021 tax return or they can update their HealthCare.gov application for 2021 coverage to reduce monthly premiums for the rest of the year. Enrollees who are already covered through the Marketplace receive savings of an average of $50 per person per month.
New Oregon residents won't need to take driver's knowledge test after June 5
Most states don't require the written test for out-of-state drivers, as long as you have a valid license from another state. Oregon has had this rule, however, that requirement is ending on June 5 thanks to a new bill signed by the governor.
Under the bill, as long as out-of-state drivers have a valid license from another state, they won't have to take what's commonly known as the 'written test.'
If you've attempted to get an appointment at the DMV in the last year, it's been a struggle because of their backlog. If you try to schedule one now, it'll likely be a couple months before you can get in the door.
"At the highest point, title turnaround, in worst case scenarios was up to 20 weeks, in the middle of winter. We've been getting that down, down, down. It's down below 15 weeks now. In a typically busy summer, in normal times, 4 or 5 weeks would be the outside. We're still way outside that. This is an unprecedented backlog," David House, a DMV spokesman, said.
House Bill 2137, signed by Governor Brown makes changes the DMV said will help relieve that backlog.
One of them makes it easier for new Oregon residents to get their driver's license. They will no longer need to take the written knowledge test as long as they have a valid driver's license from another state that isn't more than a year expired.
"Probably more than a thousand new residents come into Oregon every month. Of those, if you happen to fail this knowledge test, at this time when it's really hard to get an appointment, you could have to make another appointment and come in again. This is one way we can reduce some repeat visits," House said.
The new law also extends the moratorium for certain traffic offenses until December. This means you can't get a ticket for an expired license or registrations as long as it hasn't been expired longer than six months.
It also gives current residents more time to renew their license.
"Instead of just one year, you now have two years that your license has been expired and you do not need to take the tests again," House said. "All these kinds of measures, all these little things here and there, adding additional staff, having voluntary overtime work at the DMV are among many measures we're taking that all add up a little bit to catch up with the backlog."
These changes go into effect June 5.