The latest news stories of interest in the Rogue Valley and around the state of Oregon from the digital home of Southern Oregon, Wynne Broadcasting's RogueValleyMagazine.com
Thursday, July 1, 2021
Rogue Valley Weather — Heat Advisory until July 3, 11:00 PM PDT
Today– Widespread haze before 8am. Sunny and hot, with a high near 97. Calm wind becoming northwest 5 to 8 mph in the afternoon.
Friday– Widespread haze before 2pm. Sunny and hot, with a high near 102. Calm wind becoming northwest 5 to 7 mph in the afternoon.
Saturday– Sunny and hot, with a high near 103. Calm wind becoming northwest 5 to 7 mph in the afternoon.
Sunday: Independence Day– Sunny and hot, with a high near 101.MondaySunny and hot, with a high near 99.
Tuesday– Sunny and hot, with a high near 98.
Oregon reports 196 new confirmed and presumptive COVID-19 cases, 4 new deaths
There are four new COVID-19 related deaths in Oregon, raising the state's death toll to 2,774. The Oregon Health Authority reported 196 new confirmed and presumptive cases of COVID-19 bringing the state total to 208,637.
The new confirmed and presumptive COVID-19 cases reported today are in the following counties: Baker (3), Clackamas (17), Clatsop (5), Crook (1), Curry (1),  Deschutes (7), Douglas (11), Harney (1), Hood River (2), Jackson (16), Jefferson (3), Josephine (5), Klamath (5), Lane (17), Linn (15), Malheur (2), Marion (12), Morrow (1), Multnomah (19), Polk (8), Tillamook (2), Umatilla (21), Union (6), Washington (11) and Yamhill (5).
Weekly COVID-19 cases, deaths, hospitalizations decline
The Oregon Health Authority's COVID-19 Weekly Report, released today, shows a drop in daily cases and a decline in hospitalizations from the previous week.
OHA reported 1,371 new daily cases of COVID-19 during the week of Monday, June 21, through Sunday, June 27. That represents a 19% decline from the previous week and the lowest case count since the week of June 15–21, 2020.
New COVID-19 related hospitalizations fell from 161 to 110.
There were seven reported COVID-19 related deaths, down from 26 reported the previous week.
There were 60,610 tests for COVID-19 for the week of June 20 through June 26. The percentage of positive tests was 3.2%.
People 70 years of age and older have accounted for 38% of COVID-19 related hospitalizations and 74% of COVID-19 related deaths.
Today's COVID-19 Weekly Outbreak Report shows 21 active COVID-19 outbreaks in senior living communities and congregate living settings, with three or more confirmed cases and one or more COVID-19 related deaths.
Vaccinations in Oregon
Today, OHA reported that 59,070 new doses of COVID-19 vaccinations were added to the state immunization registry. Of this total, 4,132 doses were administered on June 29 and 54,938 were administered on previous days but were entered into the vaccine registry on June 29.
Today's vaccination numbers reflect a large number of vaccinations reported by pharmacies. Those numbers will be included in tomorrow's CDC dashboard.
The seven-day running average is now 7,532 doses per day.
Oregon has now administered 2,529,381 first and second doses of Pfizer, 1,737,991 first and second doses of Moderna and 168,272 single doses of Johnson & Johnson COVID-19 vaccines.
As of today, 2,397,594 people have had at least one dose of a COVID-19 vaccine and 2,183,905 have completed a COVID-19 vaccine series. The number of adult Oregonians needing vaccinations to reach the 70% threshold is 16,094. A daily countdown can be found on the OHA vaccinations page.
Cumulative daily totals can take several days to finalize because providers have 72 hours to report doses administered and technical challenges have caused many providers to lag in their reporting. OHA has been providing technical support to vaccination sites to improve the timeliness of their data entry into the state's ALERT Immunization Information System (IIS).
To date, 2,961,495 doses of Pfizer, 2,231,260 doses of Moderna and 299,100 doses of Johnson & Johnson COVID-19 vaccines have been delivered to sites across Oregon.
These data are preliminary and subject to change. OHA's dashboards provide regularly updated vaccination data, and Oregon's dashboard has been updated today.
COVID-19 hospitalizations
The number of hospitalized patients with COVID-19 across Oregon is 136, which is 13 fewer than yesterday. There are 31 COVID-19 patients in intensive care unit (ICU) beds, which is four fewer than yesterday.
The total number of COVID-19 positive patient bed-days in the most recent seven days is 1,046, which is a 0.7% decrease from the previous seven days. The peak daily number of beds occupied by COVID-19 positive patients in the most recent seven days is 162.
The total number of patients in hospital beds may fluctuate between report times. The numbers do not reflect admissions per day, nor the length of hospital stay. Staffing limitations are not captured in this data and may further limit bed capacity. More information about hospital capacity can be found here.
Governor Brown joined by Oregon leaders for reopening event
Today, Governor Kate Brown was joined by various business, health, community and governmental leaders to commemorate Oregon's official reopening.
"Today, we celebrate Oregon's strength, resilience and collaboration," said Governor Brown. "We celebrate brighter days ahead. And, today, we celebrate that Oregon is 100% open for business."
While reaching the 70% statewide vaccination threshold gives many reasons to be joyful, the event also acknowledged the immense loss and grief that many continue to experience as a result of the pandemic.
"In Oregon, we've lost 2,770 family, friends, neighbors and co-workers who died with COVID-19," said OHA Director Patrick Allen. "If we took just one minute to honor each person we've lost, we'd stand a vigil that would last more than 46 hours."
"For those who are continuing to grieve, whether it's for the loss of a loved one, a sense of stability, or the life you imagined for yourself and your family this past year and a half,  know that it's okay to feel the way you do. If you need support, mental and emotional health resources are available for you online through Safe + Strong, The Dougy Center and Refuge in Grief. Additionally, OHA filmed a Facebook Live on grief in early March, which you can view here."
Effective immediately, Oregon OSHA formally lifts face covering, distancing parts of COVID-19 rules
Oregon OSHA today removed the facial covering and physical distancing requirements of its COVID-19 rule for all workplaces, with certain exceptions, including health care, public transit, and airports.
The move by the division is part of a formal process involving initial amendments to the existing requirements of its COVID-19 rule for all workplaces.
It also encompasses similar changes that will be made to another COVID-19 rule addressing housing provided by employers, including as part of agricultural operations. 
The lifting of the facial covering and distancing requirements – effective immediately – are consistent with previous public announcements about the reopening of Oregon, including by Gov. Kate Brown and the Oregon Health Authority.
However, that does not mean that all of Oregon OSHA's COVID-19 requirements are going away immediately. For the rule addressing all workplaces, examples of measures that will remain in place longer include optimization of ventilation, notification of a positive case in the workplace, and proper steps to take if an employee must quarantine.
While the facial covering and distancing provisions are removed from the rule addressing employer-provided housing, the rule's measures – including placement of beds and air purifiers – remain in place.
Meanwhile, Oregon OSHA continues to meet on a regular basis with stakeholders about the eventual full repeal of the requirements.
Indeed, the fact that Oregon OSHA has lifted – and will no longer enforce – the basic facial covering and distancing parts of its requirements does not mean that the risks of COVID-19 are gone.
"It is heartening to see that we have come so far and are experiencing an improving situation," said Michael Wood, administrator for Oregon OSHA. "But the risks remain real – especially for those who are not fully vaccinated. That is why, from a risk management standpoint, it makes sense to keep some provisions of our workplace requirements in place longer."
Wood added, "We need to remain vigilant and encourage more people to get vaccinated."
To put these changes into effect, documents have been filed for the general workplace rule. The documents are available here:
https://osha.oregon.gov/OSHARules/adopted/2021/ao4-2021-letter-cov19-allworkplaces.pdf
The amendment to the employer-provided housing rules are in the process of being filed and will soon be available on the website here:
https://osha.oregon.gov/rules/making/Pages/adopted.aspx
The changes implemented by Oregon OSHA do not preclude businesses from choosing to put their own facial covering and distancing measures in place, as long as they do so according to public health guidelines and keeping in mind accommodations for people with disabilities.
Oregon OSHA extended its requirements for all workplaces, which took effect May 4, to maintain risk-reducing safety measures for workers against the coronavirus. The requirements were developed – and, in several cases, adjusted – based on extensive public input, comments, and technical and stakeholder review.
When it extended the requirements, Oregon OSHA committed to an ongoing process to eventually repeal the rules in their entirety when they are no longer needed to address the pandemic in the workplace.
As part of that process, Oregon OSHA continues to consult with the Oregon OSHA Partnership Committee, the Oregon Health Authority, the two Infectious Disease Rulemaking Advisory Committees, and other stakeholders.
Learn more about Oregon OSHA's free resources – involving no fault, no citations, and no penalties – by contacting our consultation services and technical experts.
Learn more about Oregon OSHA's workplace guidance and resources related to COVID-19: https://osha.oregon.gov/Pages/re/covid-19.aspx
Oregon OSHA, a division of the Department of Consumer and Business Services, enforces the state's workplace safety and health rules and works to improve workplace safety and health for all Oregon workers. For more information, go to osha.oregon.gov.
The Department of Consumer and Business Services is Oregon's largest business regulatory and consumer protection agency. For more information, go to www.oregon.gov/dcbs/.  — Oregon Dept. of Consumer & Business Services
Josephine County Public Health to continue COVID-19 contact tracing, vaccination efforts
Despite the lifting of most COVID-19 restrictions throughout the state of Oregon, Josephine County Public Health continues to conduct contact tracing, operate the COVID-19 vaccine call center and facilitate vaccinations across the county.
On June 30, Gov. Kate Brown rescinded Executive Order 20-66, which authorized Oregon's statewide mask mandate and the county risk level system, as well as other executive orders which affected non-urgent healthcare procedures, schools and childcare facilities. However, some statewide mask requirements may stay in place in specialized settings following federal guidance, including airports, public transit and health care settings.
"As the state of Oregon enters a recovery phase from COVID-19 pandemic, the disease is still present," said Dr. David Candelaria, Josephine County Public Health officer. "Therefore, local public health departments will continue contact tracing in an effort to decrease the spread of COVID-19 disease."
Anyone who tests positive for COVID-19 and anyone who has been exposed to someone with COVID-19 during the contagious period will be confidentially contacted via phone by JCPH contact investigators. Public Health will provide information, as well as any necessary assistance and support during the minimum 10 days of isolation or quarantine.
"Regardless of vaccination status, masks are still required for those age two and older when in healthcare settings and in public transportation," Candelaria said. "Vaccination remains the most effective way to gain protection from and slow the spread of COVID-19 disease."
Anyone interested in scheduling an appointment to receive a first or second dose of a COVID-19 vaccine is invited to fill out the Josephine County COVID-19 Vaccination Appointment Request Form at http://www.co.josephine.or.us/Page.asp?NavID=2299 or call the COVID-19 vaccination call center at (541) 916-7030. See co.josephine.or.us/COVID19 for more information.
In Josephine County, 46.6 percent of residents age 16 or older have received at least one COVID-19 vaccine. As of June 28, there have been 3,694 cases of COVID-19 among Josephine County residents and 76 deaths. More than 300 patients have been hospitalized since the beginning of the pandemic.
LOCAL HEADLINES:
County Officials Worry About Firework Displays Amidst Fire Danger
Even though fire conditions are extreme and there are numerous fires already burning in the region, some communities are pushing forward with Fourth of July firework displays.
Extreme drought conditions, high fire danger, tinder-like fuels, and other wildfire concerns have many metro and city agencies in Oregon and Washington banning the use of fireworks through the Fourth of July holiday.
Oregon has long banned fireworks that fly, explode, or travel more than six feet on the ground or 12 inches into the air. This doesn't stop some residents from purchasing these types of fireworks in other states and shooting them off in Oregon.
Jackson County Fire District 3 Fire Chief Bob Horton says it's not the legal and "Safe and Sane" firework displays that they are worried about.
"When folks are responsible and following directions and using legal fireworks," said Horton. "We don't have a concern of there being challenges, that's not what poses challenges to the community from a fire safety perspective."
Other cities, however, have expressed their concerns over the current conditions and have canceled their firework displays as a result. Jacksonville, Grants Pass, Ashland, Shasta and Yreka all credit dry conditions, fire risks and low resources for those cancellations.
Given the extreme fire danger in California with the Lava Fire and Tennant fire still burning, Yreka and Shasta are going a step further in banning the sale and display of all fireworks, even those considered "Safe and Sane".
While it's up to the state, city and county governments to ban the use of fireworks, under Oregon Revised Statute 480.160 (4)(c), the fire district only has the authority to issue permits for selling and displaying fireworks.
According to a release from Fire District 3, the fire district does have the authority to postpone a fireworks show if adverse weather conditions exist.
"We are hoping for the very best conditions on Sunday night and we will be on standby," said Horton.
Fire District 3 will be on standby at Boomfest 2021, a celebration put on by the city of Central Point. Nikki Peterson, an events official with the City of Central Point, says the fireworks show is a big part of the celebration.
"In Central Point, Fourth of July has always been a very big event for us," said Peterson. "Our parade is beloved by all."
The Jackson County Expo is where the city will host the firework display starting at 10 p.m. on Sunday night. Peterson said the city has been clearing the trees in the surrounding area as an extra precaution.
In Klamath Falls, the Klamath Freedom Foundation is moving forward with their Klamath Falls Freedom Celebration. That celebration also includes a firework display on Sunday, July 4.
Klamath Freedom Foundation President Doug Brown says he's excited for the city of Klamath Falls to finally be able to enjoy an event like this one and ensures that they are taking everything seriously.
"This is something we've done for seven years, so we're not rookies at what we do," said Brown.
The firework display takes place on the Klamath County fairgrounds and will have Klamath County Fire District 1 on standby.
"One reason we brought it onto the fairgrounds is because we know it's a safe spot to do our shoot from," said Brown. "Basically it's dirt, gravel, and asphalt."
Both Peterson and Brown said they're excited to bring their cities an event to celebrate the community and country, especially now that the state has lifted restrictions. With the high fire danger the region is facing right now, they're both urging residents to attend one of these controlled shows and not resort to illegal use.
"I would ask anyone out there, if you're going to do fireworks and there's no way to talk you out of it, do them safely, do them in a safe place," said Brown.
The City of Central Point will have all their other Fourth of July events as scheduled and details can be found on their city website, as can the Klamath Falls Freedom Celebration.
Human Remains Discovered Near Lake Of The Woods
Investigations are now underway following the discovery of human remains near Lake of the Woods over the weekend, according to the Klamath County Sheriff's Office.
The Sheriff's Office learned about the discovery of skeletal remains about three miles south of the lake on Sunday. Deputies responded to the scene and confirmed that the remains were human.
Klamath County is now working with Jackson County Search & Rescue, the Oregon State Police Crime Lab, and other agencies on an investigation into the discovery. The Sheriff's Office said that more details will be released as they become available.
Activist Group Protests Enforcement of Camping Ordinance Along Bear Creek Greenway During Heat Wave
Activist group Rise and Resist Southern Oregon rallied outside Medford City Hall and the Medford Police Department headquarters on Wednesday, protesting the continued removal of homeless encampments along the Bear Creek Greenway during the ongoing heatwave.
"When the ordinance was passed banning camping and sleeping along the Greenway, there was a specific exception for extreme weather," said Sam Powell, a member of Rise and Resist Southern Oregon. "This is obviously extreme weather, this is some of the hottest heat Medford has ever seen in June. We're incredibly angry that the police decided to post eviction notices for 12 camps on Monday."
Rise and Resist Southern Oregon points to the city of Medford's continued allowance of fireworks ahead of the Fourth of July weekend as a reason to discredit the stated concern of additional fire danger presented by the camps. Other cities in the Rogue Valley, like Ashland and Jacksonville, have chosen to ban fireworks this year due to the risk of fire.
"I believe it's just an excuse. It's just another excuse to stop us from doing what we need to do to survive. If they're really concerned, why aren't they passing out fire extinguishers? Or anything we can throw on it if an accidental fire started?" said Greenway resident Christine-Marie Caliguiri, who attended the protest.
Caliguri acknowledges that regardless of the sweeps, she would be stuck outside in the heat. However, she says the sudden need to pack up all of her belongings and find a new location makes her situation much more difficult.
"I think it's worse because then you're also under stress. You're worried… where you're going to go, where you're going to rest, where you're going to lay your head. When you're in the heat for so long, your clarity is not always right there," she said.
Caliguri says she has tried to take advantage of the services offered by Rogue Retreat at the Urban Campground and Kelly Shelter in the past but found that they were not accommodating enough for her and her dog. Rise and Resist Southern Oregon says they will continue to put the pressure on elected officials and police in the city as much as they can.
"We'd like to see true low-barrier housing provided without police presence. A lot of our unhoused neighbors, when they are offered services, it's often with police. They don't want anything to do with the police after being evicted," Powell said.
AROUND the STATE of OREGON
Oregon State Medical Examiner Releases Preliminary Death Count Related to Recent Heat Wave
As of June 30, 2021 the State Medical Examiner's Office has received report of 63 deaths that preliminary investigation suggests may be associated with the Pacific Northwest heatwave.
This number may change in either direction as more information or reports are received from each County Medical Examiner's Office.
Again, these are preliminary numbers as some investigations are still in progress and final causes of death have not yet been determined. No further information is available for release at this time. Oregon State Police
Many Oregonians can now get health coverage for $1 per month
Starting July 1, 2021, people who have received or qualified for at least one week of unemployment benefits in 2021 may be able to get health coverage for $1 per month after advance payment of premium tax credits.  
According to the United States Department of Labor, approximately 112,500 people in Oregon were on unemployment benefits at the highest point in January 2021.
From Feb. 15 to May 31, 2021, as part of the COVID-19 special enrollment period, 13,708 Oregonians were newly enrolled in health coverage. The COVID-19 special enrollment period ends Aug. 15, 2021, and is open to all people who qualify to shop.
Seven out of 10 Oregonians now qualify for financial help through the Marketplace.
The Oregon Health Insurance Marketplace encourages all people who are uninsured to explore their health coverage options and to see how much in additional savings they can now get. Anyone not currently enrolled in health coverage can apply and enroll before Aug. 15 to get health coverage with these extra savings for the rest of 2021.
Current Marketplace enrollees can log in to their HealthCare.gov account and report that they received unemployment during 2021 to take advantage of these additional savings. These savings are in addition to any additional savings that have been available since April 1, 2021, under the American Rescue Plan.
The Oregon Health Insurance Marketplace offers a quick snapshot of the plans and savings to eligible Oregonians. The tool, available at OregonHealthCare.gov/WindowShop, and has been updated to correctly calculate additional savings now available to people shopping through the Marketplace.
Start at OregonHealthCare.gov to get to the right application or to find an insurance agent or community partner organization to help complete the application and enroll. Insurance agents and community partners provide local, one-on-one assistance at no charge. This help is available virtually, on the phone, and in person following safety protocols.
The Oregon Health Insurance Marketplace, a part of state government, helps people get health insurance when they do not have job-based coverage and do not qualify for the Oregon Health Plan or another program. The Marketplace is the state-level partner to HealthCare.gov. For more information, go to OregonHealthCare.gov. Oregon Dept. of Consumer & Business Services
Gov. Brown Declares Wildfire Emergency – State Fire Marshal mobilizes task forces and resources to help fight Wrentham Market Fire
Oregon Gov. Kate Brown has declared a state of emergency aimed at improving response to active and imminent wildfires across the state, and has invoked the state's Emergency Conflagration Act late Wednesday morning to aid in response to a growing fire east of Mount Hood.
These steps comes after a fire in Central Oregon prompted evacuations and the closure of an airport in Redmond Tuesday, and a separate fire in Eastern Oregon put up to 100 residents of Wasco County under "go-now" evacuation orders.
Crippling heat, which has abated in Northwest Oregon but continues to stifle much of the state, has exacerbated a drought emergency across much of the state at a time when forecasts call for windy conditions and dry thunderstorms ahead.
Governor Kate Brown invoked the Emergency Conflagration Act in response to the Wrentham Market Fire that broke out in Wasco County Tuesday evening. The fire is located outside Dufur, Oregon. The fire is estimated to be 10,000 acres in size and is located outside Dufur, the Wasco County Sheriff's Office has put in place Level 3, Go Now, evacuation notices. The Office of State Fire Marshal's Red Incident Management Team assumed command at 9 am Wednesday, June 30th, 2021, and will work to bring additional resources from counties around Oregon to assist in the response.   
The three task forces, totaling 41 people, 12 engines, 3 water tenders, 3 command vehicles, and 2 support units from Multnomah, Washington, and Yamhill Counties, arrived Wednesday morning for a briefing and assignments. Starting on Tuesday afternoon, shortly after the fire was reported, OSFM staff was on the ground supporting local initial attack efforts. In addition, they worked with agency partners on aggressive air attack. The addition of the three task forces and incident management team will help bolster capacity in fighting the Wrentham Market Fire.
The declaration made by Gov. Brown cleared the way for the State Fire Marshal to mobilize firefighters and equipment to assist local resources battling the fire.
OSFM personnel has responded with a Communications Unit and a cache trailer loaded with incident support supplies, including COVID-19 PPE, tools to enhance defensible space around structures, and other provisions firefighters need to in a fire camp.
For more information, follow OSFM on Facebook and Twitter.
"Oregon is still recovering from the devastation of last year's wildfires, which resulted in nine Oregonians losing their lives and thousands more losing their homes," Brown said in a statement issued to the media. "With wildfires already sparking this year, it is imperative that we act now to prevent further loss—of life, property, business, and our natural resources."
The Redmond brush fire prompted Redmond firefighters to ask occupants of roughly 325 residential and commercial structures to evacuate on Tuesday and threatened the personal property of homeless campers in the area.
In Wasco County, the wildfire east of Dufur grew to 10,000 acres overnight, according to the Oregon Department of Forestry. It was not clear as of Wednesday morning whether additional people would be evacuated, beyond the 100 or so who were asked to leave Tuesday afternoon.
That fire, dubbed the "Wrentham Market Fire," prompted Brown's invocation of the Oregon Emergency Conflagration Act, which allows the state fire marshal to mobilize firefighters and equipment from other jurisdictions.
Brown's broader state of emergency declaration is aimed at speeding the state's overall wildfire response. If state and national resources are limited, the Oregon National Guard will also assist with firefighting, the governor's office said.
The state of emergency allows fire officials to utilize personnel, equipment, and facilities from other state agencies in order to respond to wildfires.
John Flannigan from the Oregon Department of Forestry said this year he is worried about manmade fires.
"It just takes a start in the wrong place at the wrong time, and we'll be back to chasing big fires," Flannigan said.
As of right now, according to ODF, there are currently 425 fires burning on state lands. About 7,500 acres have already been burned. That's compared to a 10-year average of 231 fires and less than 2,000 acres burned at this point in the year. Oregon State Fire Marshal
2021 Minimum Wage Increase Begins July 1
It's the sixth of seven increases the Legislature mandated in 2016, which have steadily raised the state's hourly minimum from $9.25. Oregon will have one of the highest minimum wages in the nation when the new rates kick in July 1, but the rate varies considerably depending on where you work.
Oregon's minimum wage increases on July 1, 2021, but the raises won't be the same across the state. The minimum wage increases to $14.00 per hour inside the Portland urban growth boundary, $12.00 per hour in nonurban counties, and $12.75 in other areas of the state.
Oregon's three minimum wages will be among the top state-level minimum wages in the nation. The highest minimum wage will be in the District of Columbia ($15.00), followed by Washington ($13.69), Massachusetts ($13.50), and California ($13.00). The federal minimum wage will remain at $7.25 per hour.
Oregon's minimum wage levels were set by Senate Bill 1532 in 2016. The minimum wage increases on July 1 each year through 2022. There are three tiers of step increases based on geography.
Beginning in 2023, minimum wage in all tiers will be adjusted for inflation. This means the minimum wage will maintain purchasing power after the last step increase in 2022.
Oregon lawmakers took an innovative approach, mandating different minimums for different regions of the state, so the $14 hourly minimum applies only to the three counties in the Portland metro area.
Employers in rural Oregon counties, however, may pay as little as $12 an hour, while some coastal and smaller urban counties will have a $12.75 minimum. The difference is meant to account for lower costs of living outside the metro area.
The nation's highest statewide or districtwide minimum wage is in Washington, D.C., at $15 an hour. Washington state's hourly minimum is $13.69, Massachusetts' is $13.50 and California's is $13. Many cities or counties have higher minimum wages than their states.
When Oregon's higher minimums kick in July 1, the wage floor in the Portland area will have climbed by more than 50% since 2016. That works out to nearly $10,000 more annually for a full-time worker earning the Portland area's higher minimum wage.
The minimums rise again in July 2022, topping out at $14.75 in the Portland area. Subsequent increases will be tied to inflation.
The federal minimum wage, meanwhile, has been stagnant at $7.25 an hour since 2009. There is a general agreement in Congress that the national minimum should rise, but Republicans and Democrats have been unable to agree on how much and how quickly.
That reflects a perennial debate among economists over how much higher minimum wages inhibit job growth, the fear being that employers will hire fewer workers if they must pay them more. There's no debate, though, that it's easier to raise wages when the economy is strong.
Oregon's succession of minimum wage increases coincided with a long stretch of economic growth, when the state's jobless rate was at historic lows – dependably below 4% in the months before pandemic recession hit.
And even as the minimum wage rose, the number of Oregon workers earning the minimum steadily declined from 7.3% in 2018 to 6.6% in 2019 and just 6.1% last year. (Some 123,000 workers statewide earned the minimum in 2020, according to the Oregon Employment Department.)
That could suggest that employers were raising wages to attract workers during the strong economy, not only because the state was mandating higher pay.
Of course, the pandemic changed everything. Many low-wage workers lost their jobs last year when bars, restaurants and other hospitality sectors cut back or shut down. That meant fewer workers in those industries, and fewer workers earning the minimum.
And now, with employers facing a labor shortage, there is evidence that wages are rising for a new reason — employers racing to reopen after the pandemic are paying more so they can staff up quickly and capitalize on the economic rebound.
Hubbard Creek Beach Health Advisory Issued 
OHA issues advisory due to high bacteria levels
Oregon Health Authority (OHA) is issuing a public health advisory today for unsafe levels of fecal bacteria in ocean waters at Hubbard Creek Beach in Curry County. People should avoid direct contact with the water in this area until the advisory is lifted.
Unsafe levels of fecal bacteria can cause diarrhea, stomach cramps, skin rashes, upper respiratory infections, and other illnesses. Children, elderly and those with a compromised immune system should use extra caution as they are more vulnerable to illness from waterborne bacteria.
Visitors should avoid wading in nearby creeks, pools of water on the beach, or in discolored water, and stay clear of water runoff flowing into the ocean. Levels of fecal bacteria tend to be higher in these types of water sources.
Unsafe levels of fecal bacteria in ocean waters can come from both shore and inland sources including:
Stormwater runoff.
Sewer overflows.
Failing septic systems.
Animal waste from livestock, pets and wildlife.
Even if there is no advisory in effect, avoid swimming in the ocean within 48 hours after a rainstorm.
Ocean waters will be re-tested after an advisory is issued. Once bacteria levels are at a safe level, OHA will notify the public that the advisory is lifted.
While this advisory is in effect at Hubbard Creek Beach, state officials continue to encourage other recreational activities (flying kites, picnicking, playing on the beach, walking, etc.) on this beach because they pose no health risk even during an advisory.
For the most recent information on advisories, visit the Oregon Beach Monitoring Program website at http://www.healthoregon.org/beach or call 971-673-0482, or 877-290-6767 (toll-free).
Oregon's Enchanted Forest Opens Again – Celebrating 50th Anniversary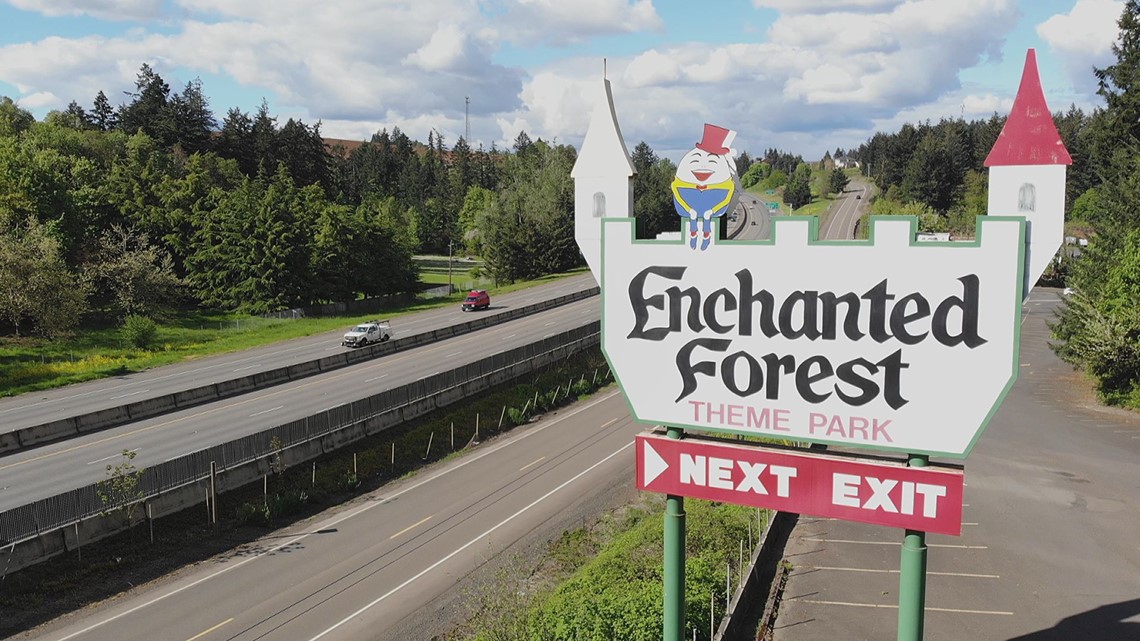 Just off Interstate 5 near Salem, Humpty Dumpty sits atop a highway sign, beckoning passing cars into the Enchanted Forest, a roadside amusement park filled with fairy tales and nursery rhymes.
On Wednesday, the park opened full-time as Oregon reopened its economy and lifted most COVID-19 restrictions. The park will now be open daily from 10:30 a.m. to 5 p.m. with no capacity restrictions. 
For More INFO: https://www.enchantedforest.com/